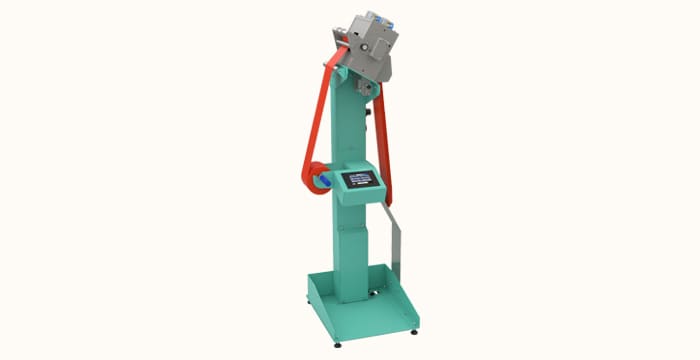 AVC 3
The AVC3 is an easy to use, compact and au- tomatic machine for cost effective production of vertical fabric vanes.
Cutting, punching and creasing is done in one cycle, minimising waste, reducing the cost of labour and required skill level.
It offers quick change between widths and accurate fabric measurement.
The AVC3 comes as a part of a comprehensive range of proven Magnum machinery. For years we are helping you increasing the range, capacity and effciency of your production.
Features
• compact machine – requires minimum of space
• cutting, punching and creasing in one cycle
• bottom and top pocket electronically adjustable
• excellent cost performance ratio
• the machine can be set up for 89 and 127 mm fabric
• easy to change set up between sizes, thumb screw adjustment
• programmable for window fi t, vane size, swatches and sloped blinds
• vanes collected on a hanger peg
• easy to operate and maintain
• pro esional technical support, spare parts and training
Technical specification:
Max. vane length: 10 m
Top pocket range: 5 – 100 mm
Bottom pocket range: 16 – 100 mm
Off set adjustment: 0 – 100 mm
Fabric feeding speed: 0,6 m/s
Overall size:
Height: 1840 mm Width: 610 mm Depth: 500 mm
Current: single phase 230 V (50/60 Hz)
Pneumatic equipment included: approx. 6 bar at 150 L / min.
Product Catalog
Please check our machine catalog  AVC3