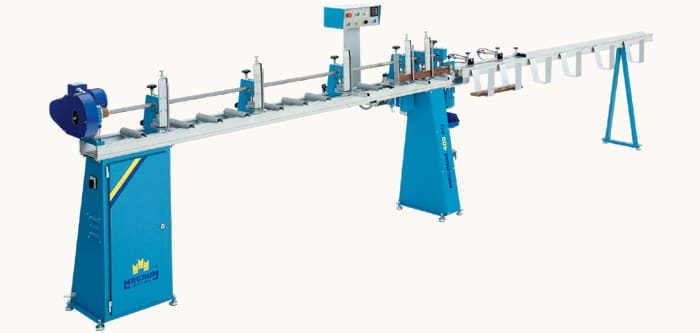 Description
The automatic machine type Magnum 400AD is designed for punching of holes in wood slats of 25mm or 35mm or 50mm width.
The slats are moved from magazine to punching section, next punched and moved to magazine of ready-made slats in automatic cycle.
Punching and cutting

WS-01/25-AD
Punching die
WS-01/50-AD
Punching die
Dimensions of standard holes
(in relation to width of wood slats)
25mm – 3mm x 12mm
35mm – 4mm x 15mm
50mm – 4mm x 20mm
Special dimensions of holes available on request.
Catalog Machine 2015.
Please check our new catalog for 2015.
M400AD
Wood slat width
24mm – 52mm
Max. length of wood slat
2500mm
Number of punching stations
4
Min. distance from slat edge to first hole
90mm
Production speed for slat of 1m length
1 m2/min.
Power supply
3x400V / 50-60Hz
Installed power
1,0 kW
Air pressure
0,6 MPa
Air consumption
6 m3
Net weight
250 kg
Gross weight
450 kg
Packing
1 wood box:
L=3700mm W=920mm H=1670mm