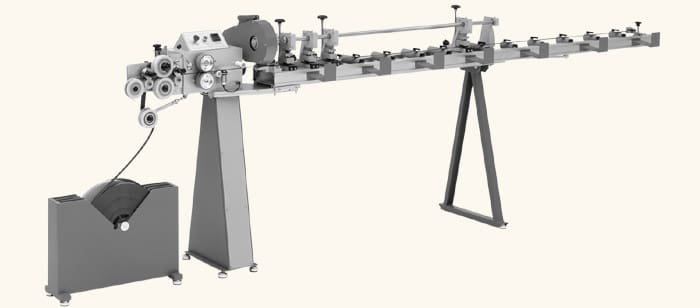 Information
Currently, the production of M400 has been replaced with M450. However, they exist on market as used.
We provide spare parts, maintenance materials and service.
Description
Automatic machine Magnum 400 is designed for forming, punching of holes and cutting the louver strip of 25 mm or 16 mm width to the desired length.
Louver strip is unrolled from its disk by pulling rolls (through the unit of forming rolls). Next to that, the strip is supplied to the units punching the holes and cutting the strip to the desired length. The machine is automatically switched off after ordered number of louver blades is made. Ready made louver blade is then inserted into containter located in front of the machine. Cutting and punching operations are started automatically.
The machine is equipped with the counter that counts the number of louver blades made.
Catalog Machine 2015.
Please check our new catalog for 2015.
Catalog machine 2015.PDF
Punching and cutting
WS-01/16 Punching die
WS-01/16/6×2,5/Fix-S Punching die
WS-01/25 Punching die
WS-01/25/3×6-TP-H Punching die
WS-02/25 Cutting die
M400/3 M400/4 M400/4-S2
Aluminium strip width 16mm or 25mm 16mm or 25mm 16mm or 25mm
Length of cut slats 240 – 2500 mm 240 – 3000 mm 240 – 3000 mm
Number of punching stations 3 4 4
Number of cutting stations 1 1 1
Min. distance from slat edge to terminal hole 70mm 70mm 70mm
Strip feeding speed 1 m/sec. 1 m/sec. 1 m/sec.
Cycle of strip feeding one – run type one – run type two – run type
Power supply 3×380/220 V, 50Hz 3×380/220 V, 50Hz 3×380/220 V, 50Hz
Installed power 0,6 kW 0,6 kW 0,9 kW
Net weight 125 kg 140 kg 200 kg