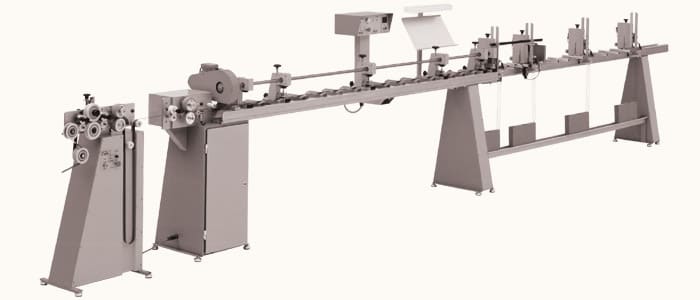 PUNCHING AND CUTTING

WS-01/16
Dziurkownik
WS-01/16/6×2,5/Fix-S
Dziurkownik
WS-01/25
Dziurkownik
WS-01/25/3×6-TP-H
Dziurkownik
WS-02/25
Rozcinak
Description
Automatic machine MAGNUM-100 is deisgned for forming, punching of holes and cutting of louver strip to the desired lenght. It also enables assembling of ordered number of louver-blades together with ladder – strings in automatic cycle. In automatic machine MAGNUM-110 is used a central control system of rewinding unit and of the strip feeding rollers (programmer, inverters, electrical slutches). This system maintains in a continous way constant and stable tension of a louver strip and replenishes automatically store of the formed strip.
Technical solutions applied in this machine eliminate all the inertial forces during the rewinding of a louvers strip, which affects distinctly the quality improvement of the louvers blades forming process.
Automatic machine MAGNUM – 110 BX is desinged for production – in automatic cycle – of 1 to 5 louve – blades simultaneously, depending of length of machinery and its equipment.
Automatic machine is equipped with pneumatic shearing units which are set up on the assembilng device.
Assembling units are equipped with some facilities which provide the top storage container with ready made louvers.
Additional equipment
Set of forming rolls, guides and tools for louver-strip of 16 mm width
Pneumatic shearing unit – enables to produce two louver strips simultaneously
Punching units
Threading units
Machine Catalog 2015.
Please check our new catalog for 2015.
M100
M110
M110BX
Szerokość piórka
16mm lub 25mm
16mm lub 25mm
16mm lub 25mm
Długość ciętych piórek
360 – 3000 mm
360 – 3000 mm
360 – 3000 mm
Liczba stacji dziurkujących
4
4
6-12
Liczba stacji rozcinających
1
1
1 mechaniczna
1+3 pneumatyczne
Liczba stacji składających
4
4
6-12
Min. odległość otworu brzegowego od brzegu piórka
120 mm i 150mm
120 mm i 150mm
120 mm i 150mm
Max. prędkość podawania taśmy
0-2,3 m/sek.
regulowana bezstopniowo
0-2,7 m/sek.
regulowana bezstopniowo
0-2,7 m/sek.
regulowana bezstopniowo
Cykl podawania taśmy
dwubiegowy
dwubiegowy
dwubiegowy
Zasilanie
3×220/380 V, 50Hz
3×220/380 V, 50Hz
3×220/380 V, 50Hz
Sprężone powietrze
0,6 MPa
0,6 MPa
0,6 MPa
Zużycie powietrza
4 m3/h
4 m3/h
5-10 m3/h
Waga netto
320 kg
420 kg
440 kg
.